Photo of the Week - "Kong"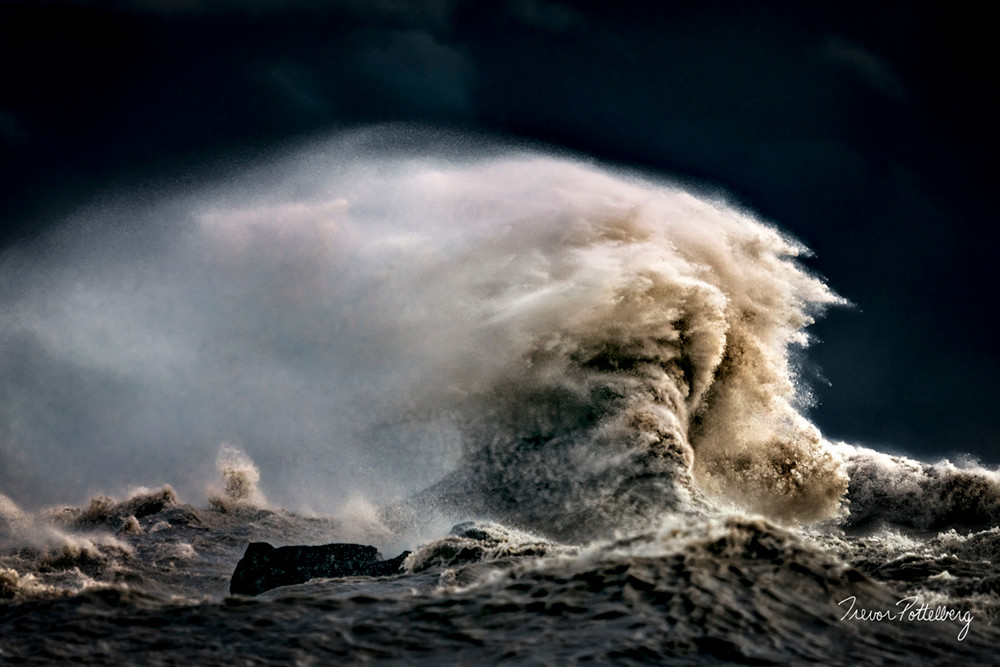 "Kong" is a new piece that was captured on 6th November 2018, during a classic fall wind storm that ripped through the province of Ontario, Canada. With winds forecast to be sustained at 55 km/hr, I knew that I couldn't pass up the opportunity to capture some sweet Lake Erie Wave action.
As I made the 45-minute trek down to the small lakeside town of Port Stanley, I could barely contain my excitement! It isn't every day that we get sustained winds of this magnitude. My mind was working overtime envisioning what the waves would look like when I arrived.
As I reached the town, I could see those all too familiar "liquid mountains" blasting up out of the murky depths. I knew in my heart that this was going to be a very memorable day.
Due to the southwesterly push of warm air into the region that day, we experienced above average temperatures of +14 degrees celsius. You would think that this would feel quite warm, but with the intense sustained winds roaring off the cold Lake Erie waters, it actually felt closer to the freezing mark. I have to admit that this was one of the most intense and challenging storms that I have ever encountered.
I put on my warmest winter gear and headed to the waters edge. The winds were so powerful that lake water was surging quite far inland. I found a semi dry spot, sat down and began to capture these giants. With wind gusts reaching 100 km/hr, it took all that I had to keep myself and my camera anchored in place. At times, massive surges of water would race up the beach, leaving me completely submerged in water. I found myself floating a few times that afternoon.
In the end, I had snapped over 900 frames in less than three hours and captured some truly unique Lakes Erie Waves. I ended up calling it quits just before dark as my hands were completely numb. After culling through the images, I was really surprised to find multiple waves with faces. This one in particular reminds me of a primates face, like King Kong!
In the past two years, I've suffered frostbite twice while photographing waves and it has caused permanent nerve damage in my hands. It's not a pleasing environment in which to work in, but if you have the drive, passion and dedication to your craft, you learn to work through the pain!